Lost Girl
If you like Kim Harrison, Kelly Armstrong's "Otherworld" series, Patricia Briggs, Angel, Hex, The Kindred, Supernatural, Warehouse 13, Sanctuary, Forever Knight,.... sexy, tongue in cheek, well written, well acted, female centric show.... check out Lost Girl.
"Bo is a succubus. One look, one touch and you're left breathless, sometimes even lifeless. Laying low and always on the run, Bo is unable to control her urge to feed on the sexual energy of others, leaving a trail of victims in her wake. That is, until the day she comes face to face with the Fae, creatures of legend and folklore living amongst us and intent upon claiming Bo as their own.
After leaving a victim in plain sight, Bo is exposed to the world of the Fae, who take her in and help uncover her true being as a succubus. Forced to choose allegiance, between the Dark or Light clans of Fae, Bo goes rogue, refusing to belong to any world other than human."
The website for the series is at http://lostgirlseries.com/ An interactive comic book was also to be available that would be serving as a lead-in to the series and characters for viewers. It also was expected to have a forum for viewers to interact with the cast and crew. The first episode is up on Showcase's site if you can access it however it may be geoblocked.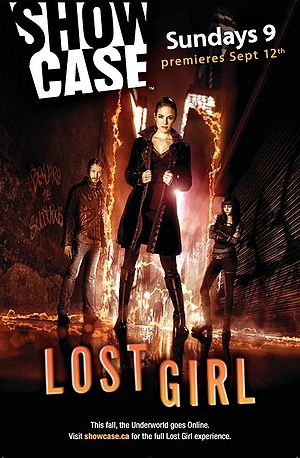 Oh My Goodness on a stick. Can someone get on this cause I -know- there will be fanfiction to be had. Especially with Bo and the doctor Lauren(mad chemistry there.. especially when Bo takes 'advantage' of her amidst being examined). Not to mention her partner in crime Kenzi (side kick action much?) and even the 'dark fae' leader. (hate fic peeps)... Oh and the stories and characters are based on actual folklore ... interesting.