Title
: Tell Your God to Ready for Blood
Author
: Susan L. Carr
skeeter451
Fandom
: Guiding Light/Deadwood
Pairing
: Olivia Spencer/Natalia Rivera
Rating
: NC-17 (Language and Sexual Situations)
Spoilers
: Yes. Everything in GL and Deadwood is fair game.
Disclaimer
: Some of these characters are real, some are fictional and some were created in the morass of my imagination. It's up to you and my non-existent team of lawyers to figure out who is who.
Dedication
: To my wonderful sounding board, my Louisiana sister
mirandyscrow
. You are the Clarisse to my Ouiser.
Note
: The title comes from the Deadwood 3x01 episode. Also, climate change has come to Deadwood; there will be no glaciers in the Black Hills.
See part one for additional notes and warnings.
Credits
: Banner and Poster created by
itsalovestory1
Summary
: When opposites attract, worlds collide and there will be blood.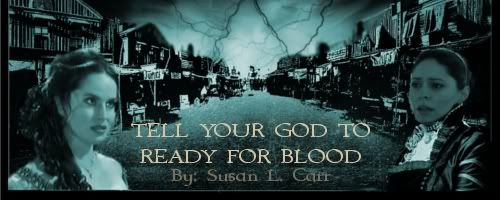 1 – True Colors
|
2
|
3
|
4
|
5
|
6
|
7
|
8
|
9
2 – Reconnoitering the Rim
|
2
|
3
|
4
|
5
|
6
|
7
3 – Sold Under Sin
|
2
|
3
|
4
|
5
|
6
|
7
4 – Full Faith and Credit
|
2
|
3
|
4
|
5
|
6
5 – Advances, None Miraculous
|
2
|
3
|
4
|
5
|
6
|
7
|
8
6 – Here Was a Man
|
2
|
3
|
4
|
5
|
6
|
7
|
8
|
9
7 – Leviathan Smiles
|
2
|
3
|
4
|
5
|
6
Twitter @Skeeter451