I don't do these often, unless I'm ridiculously obsessed with something. Well, that ship has sailed big-time, because I'm head over heels in Otaliaville. I've had this mix for a good while now, pruning and polishing every now and again. I listen to it constantly at work and especially when I'm drumming up my latest comic. :) It's got a good mix of sap, pop, indie, folk, and soul.

I hope you like! Aaaand as I *still* haven't been able to reactive my adobe creative suite on my new computer, I wasn't able to make pretty cover art with our lovely ladies. Gonna have to settle for my silly mug listening to the tunes. :)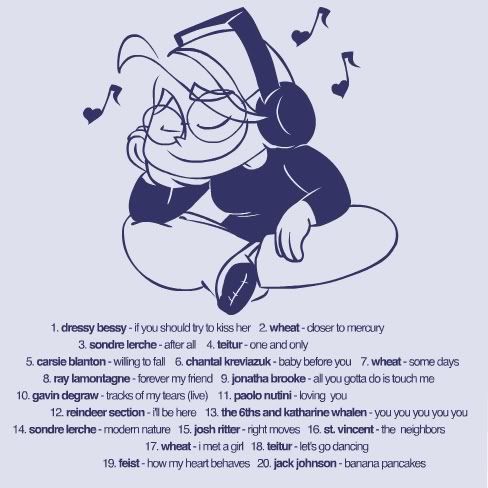 cover art pdf

zip file


(just DO IT ALREADY)


1. dressy bessy - if you should try to kiss her

give her the time, she'll know you mean it
make up her mind, throw in her feelings
open the door, have her jump through it
she fell in love, how could she do it?

do you know, do you know what you're missing?
what you're missing will show if you should try to kiss her
2. wheat - closer to mercury
And I would have walked behind
I would have walked beside you
I would have told you every lie
I would have done that for you

Because I'm a fan
From way back when you faltered
Waiting for your man
If you can remember
I was standing there with you
3. sondre lerche - after all
You daren't define which has happened to us
Well, I've had a name for it for some time
You try to find what it is that you feel
I long to tell you so truly

Oh this could be trouble
After all, after all
4. teitur - one and only
So you wanna be my friend, so you wanna be my lover
With you I do confess I can't be one without the other
That was hard for me to say, I hope I said it right
Which ever, come what may, you see I need to know tonight

Do you want to be my one and only love?
Do you want to be my one and only love?
5. carsie blanton - willing to fall
I love you so much that I feel like I've already lost you
And nothing you tell me can make me believe that you'll stay
I try to be trusting, cuz Lord knows, I know what it costs you
to be true to your lover, but never believe what they say

So what are we earning? What does it cost?
We spend our time mourning for something we haven't yet lost
I made you a promise to love you, but that wasn't all
I'm ready to hold on, willing to fall.
6. chantal kreviazuk - baby before you
Baby before you
Well I was bad news
In letting me love you
I think I can get through

And now I think it's kind of funny that you say you love me
You tell me that I'm crazy then you smile

And now I think I'll get through the end of the world
Now I think I'll get through being a girl
Now I think I'll get through anything
Now I think I'll get through
7. wheat - some days
And most days we don't regret
And most words we say are true
And we force each little step
When something anything would do

And some days love takes its time
And I don't know a thing about it
And some days you change your mind
Because I sure change my mind a lot
And some days everything's fine
I don't know a thing about it
I tried hard to live without it
All I do is think about it
I don't know what I'd do without it
I still don't know a thing about it


8. ray lamontagne - forever my friend
(there's a reason everyone mixes this song!)

We've been through some changes
Always seem to hold on
Lately it feel like you can't take anymore
Something tells me girl this is bringing you down
Something tells me girl this is bringing you down

Forever my friend
Forever my love
Forever the woman that I'm thinking of
I just think if we keep our hearts together
Just think if we build on this trust that we have for one another
Baby we can make this last a lifetime


9. jonatha brooke - all you gotta do is touch me
(um, yeah. heard this in my car and nearly had to pull over, was so flooded with otalia)

I fully aim, to get my soul known again
As the maniac, the saint, the sinner,
the drinker, the thinker, the queer
I am the works, the whole works
And it's not 'till you have called me all of these things
That I feel satisfied, I feel satisfied.

All ya gotta do is touch me, touch me.
All ya gotta do is touch me good.
All ya gotta do is touch me, touch me.
All ya gotta do is touch me good.


10. gavin degraw - tracks of my tears (cupid) *live*
(if john hiatt and sam cooke got it on, they would make this cover)

People say I'm the life of the party
Because I tell a joke or two
Although I might be laughin' loud and
Hearty deep inside I'm blue

So take a good look at my face
You'll see my smile looks out of place
If you look closer it's easy to trace
The tracks of my tears

I need you

Cupid draw back your bow
And let your arrow go
Straight to my lover's heart for me
For me. . .
Cupid please hear my cry
And let your arrow fly
Straight to my lover's heart for me


11. paolo nutini - loving you
(WISHFUL THINKING. i'm ready to burst.)

Pack up loneliness, and hello tenderness.
I've been waiting for your call for so long,
And it must have been hard just to follow your soul.
To stick to the road that your heart wants you to go,
And as you slide through the door
with your morals on your sleeve.
I think it's time for all those morals to leave
Let's get down and freaky baby,
let's get restless baby.
Come on get crazy with me.
12. reindeer section - i'll be here
Leave my bed warm and
I'll breathe in your smell
We shouldn't tell a single soul
You know its right
I want to shout it out
It's killing to hold
Hold it in my head
When's there's barely room for me

And I see you name in the darkness
Like you should be there
And I miss you more
When im coming down
And I fear the door


13. the 6ths and katharine whalen - you you you you you
(so sweet, it's my song from natalia)

You make me feel like I'm seventeen again
You make everything beautiful seem true
I can't wait to go to sleep and dream again
'Cause every dream I dream's
A dream of dreamy little you

Woo, woo, woo, woo, woo
Like amorous lovebirds do
Who made my world seem new?
'Tis, 'tis you you you you you.


14. sondre lerche - modern nature
(contender for most adorable duet i own)

The moment has come to face the truth
I'm wide awake and so are you
Do you have a clue what this is? (I don't know)
Are you everything that I missed? (I don't hope so)
We'll just have to wait and see (Wait and see)
If things go right we're meant to be

Oh, what a world this life would be
Forget all your technicolour dreams
Forget modern nature
This is how it's meant to be
15. josh ritter - right moves
All of a sudden now you're back again
I thought you were happy with whoever or did you dream about me now and then?
Did you look up at the stars and feel something for the constellations?
All those lovers circling round their loves
Slings and arrows, dogs and lions, rivers separating touch from touch
The comedy of distance, the tragedy of separation

Am I making all the right moves?
Am I singing you the right blues?
Is there a chance that I could call you just to see how you are doing?


16. st. vincent - the neighbors
(oooh, angst!)

How can Monday be alright
Then on Tuesday, lose my mind?
Tomorrow's some kind of stranger
Who I'm not supposed to see

Oh no! What would your mother say?
Oh no! What would your father do?
Oh no! What would the neighbors think?
Oh no! If they only knew... knew...


17. wheat - i met a girl
(inner battle of natalia)

I met a girl I'd like to know better
But I'm already with someone

And you've got permission to see other men while you sleep
And we wage perpetual war for perpetual peace
One says, "Hey, what gives with you?"
The other says, "Hey, what gives with you?"
It's this pace that gets to you all right

We interweave so much that we've lost a bit of solid ground
All for a kiss the things that we miss are leveling out
And I waste my time question it. Drag my heels a bit
Forever pressures me


18. teitur - let's go dancing
(about wanting to stay in that bubble where no one knows)

Our minds run in circles
Racing 'round the restaurant
Searching for what more to say
To say what we really want

Let's leave it like it is
Stop staring at these walls
Let's not go headlong to that distance
Where you can't come back at all

Let's go dancing
Waltz around the rumour mill
In your faded dress with the daffodills
Let's go dancing
Let time stand still


19. feist - how my heart behaves
(strong olivia's fragile heart)

What grew
What grew
What grew and inside who
First so simple was the vow
Then the chorus sang about
Your shoulder
The mooring for me
Like water lost in the sea

The cold heart will burst
If mistrusted first
And a calm heart will break
When given a shake


20. jack johnson - banana pancakes
(like the lyrics MATTER with that title. just a bonus)

You hardly even notice
When i try to show you this
Song is meant to keep you
From doin what your supposed to
Wakin up too early
Maybe we could sleep in
Makin banana pancakes