We all know Femslash suffers from lack of feedback. Now's the opportunity to do something about it with International Day of Femslash Feedback. Whether you're a writer, a reader, a lurker or something in between - if you read fic, watch vids, look at artwork, download fanmixes, etc. - YOU CAN GIVE FEEDBACK!!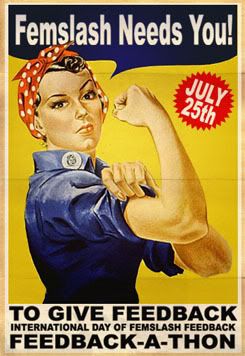 And it's really easy! SIGN UP HERE up with your pledge of a minimum of 10 pieces of feedback (it doesn't matter whether the media was posted yesterday, 10 weeks, 10 months or 10 *years* ago) and on July 25th, a week after International Day of Femslash, there will be Master Post where you give a link listing the media (fan fic, vids, graphics, etc) where you gave feedback. A hundred people pledge a minimum of 10 pieces of feedback, that's a THOUSAND pieces of feedback out there in Femslash fandom!

Now's the time to give back to the community we all know and love. And we're asking for your support (or, in my case, begging). SIGN UP HERE with your pledges, you can volunteer for 10, 25, 50, hell, 100! The more the merrier!

How does this work? If you're on LJ, or similar, leave your name and the number of feedbacks you plan to give. If you're not on LJ, anonymous posting is enabled, leave your email and the number of feedback you plan to give. If you prefer not to publically post your email address, post using your online handle and send an email to me with your post which will be kept on a non-public list.

So, please SIGN UP, show your support and spread the femslash love. I'm not above begging.. or, you know, bribery!


idof_feedback
idof_feedback
idof_feedback
idof_feedback