Femslash Day FIC: Best Friends Means You Get What You Deserve (AMC, Maggie/Bianca) 1/1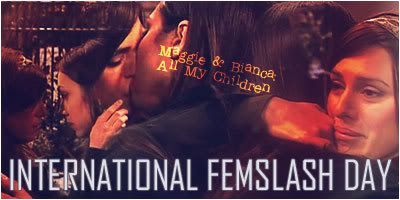 Bianca: Is that why you're here? Gratitude? Obligation? Repay a debt?
Maggie: No! It has nothing to do with that!
Bianca: If that's why you're here you can just go, okay? Get on the next plane and just go home.
Maggie: Bianca. I love you! It is not gratitude! You helped me the same way that I helped you. We went through the hardest times together. Is that what you felt for me? Gratitude?

Title: Best Friends Means You Get What You Deserve
Author: Misty Flores
Fandom: All My Children
Pairing: Maggie/Bianca
Rating: M
Archiving: Ralst, my own site eventually.
Teaser: One important lesson: it is easy, devastatingly easy; to hurt the one you love the most.
Notes: Written for
International Femslash Day
.
She sees Maggie again in a lesbian bar, six months after she has returned to Paris.